PROGRAMMING
Random programming related things.
Games
---
I'm working on a few different games at the moment, I might put some screenshots up here, along with a short description.
Chrome Extensions
---
Here are a few small Chrome Extensions I coded for Google Chrome. I haven't put them on the Chrome store because they aren't complete yet. If you want to try them out as is, I've put them up here anyway. To install, just download it, find the file and drag it into the Chrome browser window.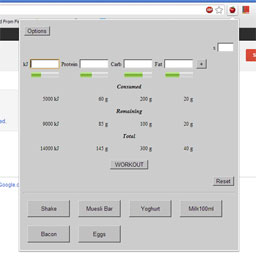 Nutrition Calculator v0.9 - download (35kb)
For when you need to remember how much or how little to eat.
I actually made this as a windows desktop app in C#, but I realised I have the browser open most of the time anyway, so this Chrome version is more useful.
Features:
Monitor kJ, protein, carbs, fat intake for the day
Different settings for workout vs rest days
Button presets for frequently eaten foods
Value multiplier, to easily work out serving values from "per 100g" type info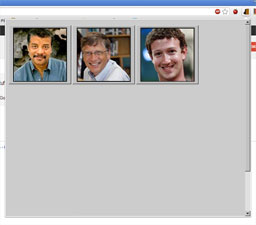 Quick Stalker v0.1 - download (45kb)
Stalking, we've all been there. It happens to the best of us.
Sometimes you just can't keep up-to-date on people's latest status updates... mostly because they aren't on your friends list.

Testimonials-

"After my boarding accident, I just didn't know what to do with myself. But when Quick Stalker Pro came out, I found a whole new lease on life!!!"
-Dave from Instanbul

"I used to spend my days depressed, moping around the house. But when I discovered Quick Stalker Pro, my life changed... bigtime. I'm still depressed, but now I can stalk people I don't know so much faster than before. I have so much time left over to plot and plan!"
-Terry from Congo
Originally designed as a joke, it's actually pretty useful. Essentially a "stalk list" for keeping track of all the people on facebook that you haven't added as friends, but want to keep looking at anyway :P Possibly only useful for a small subset of people who are nuts. But that includes most people I know, so here you go.
Features:
Right-clicking somewhere on a facebook profile lets you add it to the list
Small popup window displays profile pictures of your many stalking victims
Left-click on their picture opens their profile in a new tab
Windows Desktop Apps
---
Once again, these aren't really ready for proper release. Just a few little programs I made to save me some time. They might be useful for someone else.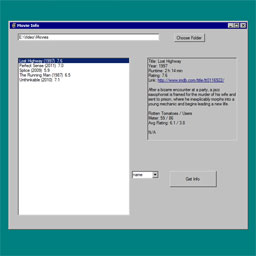 Movie Info v0.5 - download (27kb)
For when you're too lazy to choose a movie to watch.
It looks through a directory containing movies and automatically grabs their info from IMDB and Rotten Tomatoes (synopsis, rating, etc). You can then sort the movies by "rating", "name", or "run time".
As long as the folder names follow a basic formula, it should pick them up.
Valid naming examples:
The Ides of March (2011)
The Ides of March(2011)
The.Ides.of.March.(2011)
The Ides of March 2011
The Ides of March [2011]
The Ides of March (2011) blah blah blah doesn't matter what comes after the year
Update: Rotten Tomato database is causing errors, had to remove it. Only uses IMDB now.
Features:
Grab IMDB type info for all movies in a directory
Sort results by rating, name, or run-time
Be lazy